8 bizarre mode advertenties
Eens in de zoveel tijd verschijnen er advertenties waar je je vraagtekens bij zet, what where they thinking? Er wordt veel over gepraat dus het levert in ieder geval publiciteit op, maar vaak ook een verkeerd beeld van onze maatschappij. We zeggen niet dat ongelijkheid, dierenmishandeling, verslaving, geweld of seksisme door deze campagnes in het leven worden geroepen. Maar deze beelden normaliseren of glamouriseren het wel.

Tussen neus en billen door
Voor het nieuwe parfum van Tom Ford werd deze campagne in het leven geroepen. Tom Ford is nogal van het naakt. Dit keer zijn de parfum samples zijn stuk voor stuk tussen de billen van het model gestoken, de man in beeld ruikt aan dezelfde samples. Rekenen ze op een bestseller?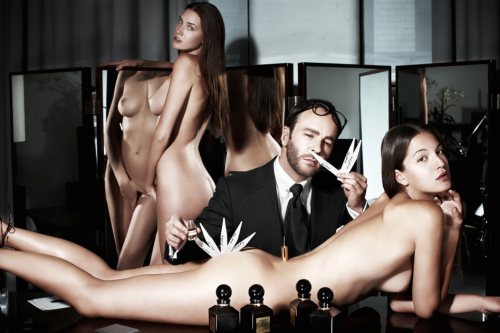 Nog meer gesnuif
Dit keer bij Sisley waar ze de consument proberen te shockeren met deze fashion junkies.

Gaat het hier om lappen stof of om lappen vlees?
We weten dan Vivianne Westwood graag shockeert, daar houden we van. Toch is deze foto met een (hopelijk fake) dood dier minder smakelijk. Ze heeft zich nota bene aangesloten bij het anti-bont clubje in modeland.
En zien we hier een groepsverkrachting?
Een bekende van Dolce&Gabbana uit 2007 geschoten door Steven klein mag niet ontbreken. Natuurlijk is hier al het een en ander over gezegd, maar toch.

Hier staat een ontvoerder achter de lens
Eigenlijk zou deze foto vrij normaal zijn, als er een volwassen vrouw op bed zou liggen. In dit geval ligt er een meisje, op een versleten bed, ergens een een kelder, terwijl er iemand naar haar loert. Tenminste dat lijkt zo want het model is de destijds 22e jarige actrice Mia Goth.
Oh, Lola, wat zit er tussen je benen?
Voor het nieuwe parfum 'Oh, Lola' van Marc Jacobs werd de minderjarige Dakota Fanning nogal verleidelijk gefotografeerd.

Lekker gluren
Suit Supply heeft altijd wel seksueel getinte advertenties, want tja, dat prikkelt mannen. Deze advertentie suggereert dat de man in beeld zo zelfverzekerd is, dat hij toch wel weet dat deze vrouw met hem naar huis gaat. Maar eigenlijk is het gewoon een creep.

United colors of Benetton?
Oeps! Dit is een grote misser van Benetton, want want willen ze eigenlijk zeggen met deze witte engels en zwarte duivel? Het is vast en zeker niet racistisch bedoelt, maar het blijft vreemd. Wij weten niet of ze deze fout ooit te boven zijn gekomen. Bestaan ze eigenlijk nog wel?