Deze dingen kun je alleen maken aan het begin van je carrière
Je bent jong en eager to learn. Vers van de schoolbanken sta jij te popelen om aan de slag te gaan. Werkgevers zijn ook erg blij met jou. Een frisse wind kan ieder bedrijf gebruiken, bovendien ben jij de duurste niet. In deze fase van jouw leven zullen er heel wat deuren openen en leer je veel, maar krijg je ook te maken met werkborrels en werkroddels. En dit is hét moment om fouten te maken, want later kan dat echt niet meer!
Dit is het tijdstip waarop je het beste kunt beginnen met werken.
1. Je tatoeage laten zien
Tijdens een werk onderonsje wordt het net iets té persoonlijk. Het onderwerp van de dag is tattoos en jij hebt zo'n ding op je buik. Ha! Een kans om jezelf te bewijzen, of ja je tattoo te bewijzen. Vol trots show jij jouw exemplaar aan jan en alleman. Een keer en nooit meer. Want stel je eens voor, je hoeft de buik van jouw baas toch ook niet te zien?


2. Dronken worden op een borrel
Oké, dit blijft gênant, maar op jouw leeftijd is het nog best grappig. Je bent jong en dan verwachten mensen dat jij wel een borrel – of meerdere – lust. Over een paar jaar is het ronduit triest als jij op vrijdag lallend naar huis strompelt, waar man en kinderen zitten te wachten.
3. Zoenen met een collega
Jij bent vers vlees op de werkvloer, en oudere collega's koppelen jou maar al te graag aan een ander stuk vers vlees. Twee jonge mensen, aan het begin van hun leven, laat daar maar wat gebeuren! Dat kan resulteren in een zoen op een borrel. Niemand zal daar schande over spreken. Hoe anders is het als twee oudere collega's – vaak al getrouwd – opeens innig staan te tongen? Wij bedoelen maar.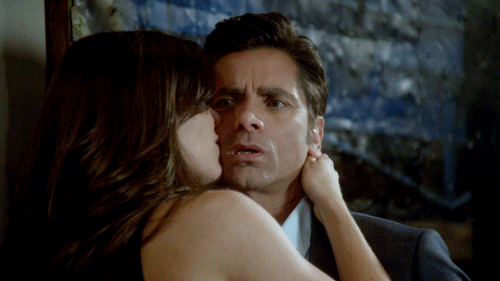 4. Je laten inpakken door de baas
Nu kun je nog wegkomen met: 'Ach ze is jong en naïef'.
5. Domme vragen stellen
Stel ze alsjeblieft! Werkgevers hebben liever dat je domme vragen stelt, dan dat jij domme fouten maakt. En nu is het moment. Straks ben jij zelf hopelijk degene die deze vragen moet beantwoorden anders heb je toch iets fout gedaan.
6. Zeggen: 'Ik werk niet voor het geld'
Natuurlijk werk je voor geld! Ook al begint niemand met een riant salaris. Toch is dit typisch iets wat je later nooit, maar dan ook nooit mag zeggen. Nu zullen collega's nog denken dat je ervaring op wilt doen of dat jouw ouders je flink sponsoren. Later denken mensen dat jij je te goed voelt of nog erger: slecht bent in je vak. Want wie hard werkt wil ook goed verdienen.