Mindspace heeft de mooiste werkplekken in de stad
Thuiswerken. Ik doe het regelmatig en vind de vrijheid die daarbij komt kijken heerlijk. Rond 11.00 hardlopen? Kan. Om 16.00 boodschappen doen? Ook geen probleem. Meestal begin ik al om 8.00 sharp en als het moet werk ik 's avonds ook nog een uurtje door. De wereld wordt steeds flexibeler en een 9 tot 5 baan op kantoor is niet meer de regel. Soms is het fijn om af en toe je huis te ontvluchten om te werken vanuit een creatieve, inspirerende omgeving. Zoiets als Mindspace waar coworking centraal staat!
Mindspace biedt locaties waar vanuit bedrijven, freelancers en zzp'ers kunnnen werken. Eerst waren er alleen vestigingen in wereldsteden zoals Tel Aviv, San Franciso, London en München maar inmiddels kan ook Nederland niet meer zonder. In korte tijd zijn er maar liefst vier locaties geopend waarvan drie in Amsterdam. De vierde locatie vestigde zich in Utrecht. En de locaties zijn allemaal even knap, bruisend, betaalbaar, vooruitstrevend en er heerst een community-gevoel
Mindspace Dam
Gevestigd in het voormalige kantoor van de Handelsvereniging Amsterdam, ademt het uit 1888 stammende pand aan de Nieuwezijds Voorburgwal met zijn grote glas-in-loodramen en de historische vergaderzaal in art-decostijl geschiedenis, terwijl het tegelijkertijd door het
open en uitnodigende high-end interieur in alles aanvoelt als het kantoor van de toekomst. 
Mindspace Herengracht
Wie o wie droomt er nu niet van om te werken in een historisch grachtenpand aan de Amsterdamse Herengracht. Kijk even naar de historische stijlkamers met authentieke details die geschiedenis uitstralen. Mag ik hier wonen?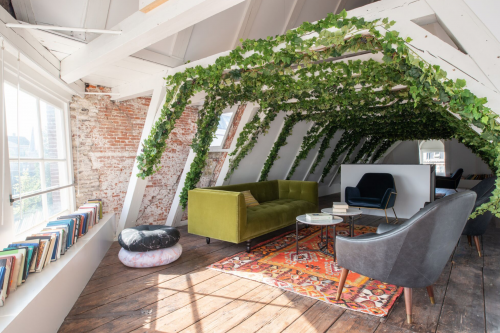 The Mindspace House
Thuiskomen doe je bij The Mindspace House aan de Nieuwezijds Voorburgwal. Hier heerst een huiselijke uitstraling.