Hands Off My Chocolate, snoepen zonder schuldgevoel
Alleen al bij het lezen van het woord 'chocolade' loopt het water je in de mond. Ja toch, niet dan? Laat staan als je één stukje verslint. Eén wordt twee, twee wordt vier. Amai, weg reep. Verslingerd zijn we er aan. Laatst hebben we onze tanden eens in de vegan versies van Hands Off My Chocolate gezet. En ja, die naam says it all! 
De love story van Hands Off My Chocolate
Sowieso dat je ze wel eens hebt gespot toen je voor het grote-goedheid-wat-een-keuze chocoladeschap stond. Aangenaam, Hands Off My Chocolate. De Belgische chocolade die je liever niet wil delen als we de makers geloven. Nou, potverdikke, die weten er wel chocolade van te maken zeg. Onder het mom van 'omdat iemand het moet doen' zijn we aan de test gegaan. Op het menu een aantal vegan smaken: Oat Cookies & Caramel (70% cacao), Seriously Dark (85%), Caramel Seasalt.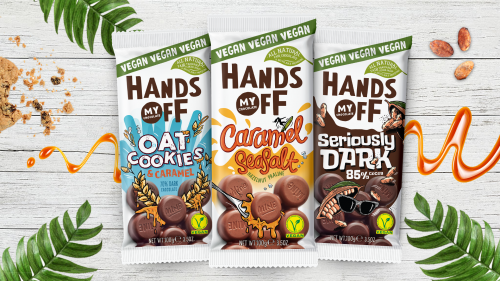 En omdat we toch bezig waren, werd gelijk het nieuwste paradepaardje – Smooth No Milk – erbij gepakt. Dat is de plantaardige versie op de klassieke milky chocoladereep. Zonder de 'boeh', mét rijstmelk. Hoe ze het dan voor elkaar boksen om net zo'n romige smaak te krijgen als bij de 'normale' reep, zeg maar de golden oldie? Dat zit 'm in die plantaardige melk gemixt met een beste bups hazelnootpraliné.
Nu kan je denken: "Ho eens even, blijf van het oorspronkelijke chocoladerecept af." Er heerst aardig wat scepsis in de vegan chocolade hoek. Is zo. Fijn hoor zo'n plantaardige reep alleen de smaak hoeft geen vrije val te maken. Eens! En zo stonden ze bij Hands Off My Chocolate ook in de smeuïge wedstrijd. Chocolade moet een traktatie zonder consessies te hoeven doen, blijven. Tig trials and errors later zijn daar de vegan baby's.
Snoepen zonder schuldgevoel, klinkt goed. Ga door! Naast dat ze namelijk volledig plantaardig zijn (lees: geen ei, melk, honing of dierlijke hulpstoffen), hebben ze ook oog voor de verpakking. Die bevat namelijk 25% minder plastic dan ze in het verleden deden. En dan is de cacao ook nog van bean to bar te traceren en krijgt de hardwerkende cacaoboer een eerlijk loon. Gaan de repen nog toch echt nog lekkerder van smaken!
Hah, daar ga je. Krijg je de de vegan chocolade niet meer uit je hoofd en wil je 'm het liefst vanavond nog in je mond stoppen? Hobbel naar de AH, Jumbo, Coop of vul je winkelmandje via de Hands-Off webshop.
Photo credits: Hands Off My Chocolate