Hotspot alert | Cavataria Amsterdam Oud-Zuid
Je hebt van die nieuwkomers waar je via-via over hebt gehoord. Waar je nieuwsgierig naar bent gemaakt, en waar je 'echt binnenkort eens een vorkje moet gaan prikken.' Cavataria was voor mij zo'n semi-nieuweling waar ik best een blokje om voor wilde fietsen. En zeg nu zelf, van die spots waar je met het Google Maps-vrouwtje in je oor naar toe wordt geleid, waar je even kwijt bent dat je in je eigen stad bent, hebben vaak alleen door de weg er naartoe al zo veel charme. Cavataria it is!
                 
Cavataria Holy Spanish Food
Wanneer kan je beter een Spaanse spot leren kennen dan op een heerlijke Indian Summer dag? Er was flink wat gaande op het terras van Cavataria. Stelletjes, gezinnen, vriendengroepen. Een lekker gemêleerd publiek dus. Niet zo bewonderenswaardig als je je realiseert wat ze bij de Cavataria op het menu hebben staan. Spaanse tapas. Een allemansvriend.
Tapas dus. En veel ook. De crew adviseert om – naast een klein voorafje – voor 2 of hooguit 3 tapasgerechten per persoon te gaan. In het begin denk je dan waarschijnlijk nog 'das nie veel.' Wacht maar tot je je Spaanse schonen voor je hebt staan. Sowieso dat je ogen groter gaan zijn dan je buik. Wat wil je ook als de menukaart bomvol watertandend lekkere tapas – zelfs veel vegetarische gerechten – staat. Van patatas bravas tot een plato mixto, van pimentos con queso de cabra tot calamares.Olé!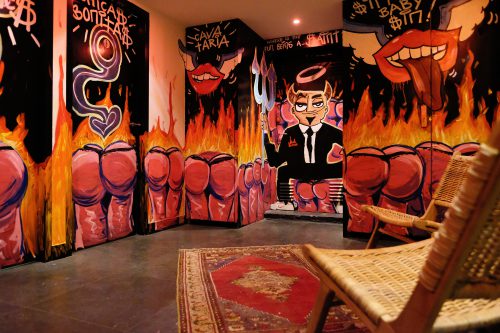 Cavabar voor heilige boontjes
Dan de ambiance. We hebben er met z'n allen snel een handje van, maar Cavataria kan je niet zo 1, 2, 3 in een culinair hokje plaatsen. De look-and-feel is anders. Anders in positieve zin. Zie het als een plek waar eerlijk Spaans eten wordt aanbeden. Waar cava een prominente hoofdrol inneemt. Waar het er in eerste instantie braaf aan toe lijkt te gaan, maar schijn bedriegt. Heilige boontjes. Laat je wanen in een kerk look-a-like. Glas in loodramen, een ware biechtstoel en de zeven zonden die her en der zijn terug te vinden. Verder heeft het niets écht kerkelijks hoor, het blijft bij een concept. Puur beleving dus.
Last but not least, wat heeft Cavataria een spontane, gezellige mensen in de bediening lopen. Ondanks dat er genoeg gasten zaten, namen ze rustig de tijd voor wat gechitchat. Alle ingrediënten van Cavataria bij elkaar opgeteld, maken het een hotspot die thuis hoort op de food bucket list van elke sin lover tot opbiechter.
P.s. Of je nu wel of niet moet, ga toch maar even via de stairway to hell bij de toiletten kijken!