Nieuwe je-wil-alles-hebben wintercollectie van MADE.COM
Zeker nu we veel – wat zeggen we héél veel – tijd binnenshuis doorbrengen, kan je het maar beter volledig naar je zin maken. Helpen de trendsetters van MADE je bij met hun nieuwe collectie. Nordic Move On, The New Soft en Luxe Maximalism. Voor iedere smaak wat wils. Drie statement trends waarbij aardse, herfstige kleurenpaletten, natuurlijke materialen en 'sculpturale' silhouetten in the lead zijn.
Inzoomend op de trend 'Nordic Move On' moet je denken aan Scandi-achtige settings, verfijnde designs en zachte contouren. The New Soft focust zich op het heerlijk languit kunnen loungen in je huis vol natuurlijke, rustgevende kleuren en materialen. En voor de laatste trend – Luxe Maximalism – is inspiratie gehaald uit de dolle disco-avonden uit de seventies vol art-deco patronen. Voor als je je habitat net een tikkeltje éxtra wil meegeven.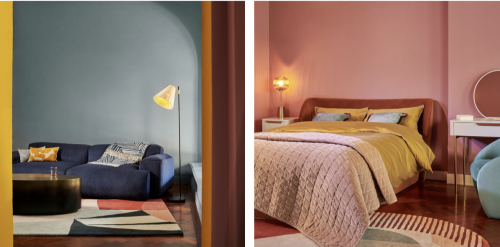 Nu wordt geadviseerd om zo veel mogelijk rundum hause te blijven, hebben ze voor de lancering van de herfst-, wintercollectie van MADE.COM iets briljants bedacht. Wat ze hebben gedaan: je kan jezelf door een aantal virtuele ruimtes – the MADE Apartment – heenklikken of een tour krijgen. Klik op de tags bij interieuritems en je leest de why's en how's over dit product: van design details tot inspiratiebronnen en collabs met ontwerpers. Zit er 'hebben-hebben-hebben-materiaal' voor je tussen? Dan kan je een stukje van het superstylishe appartement vol trendy eyecatchers gelijk in huis halen. Wees gewaarschuwd (of niet).