No Rules Amsterdam voor een buitengewone pizza experience
No Rules Amsterdam is nog geen jaar geopend. Wat timing betreft zaten ze niet gebakken. Alleen afgelopen zomer hebben ze in vier maanden tijd laten zien wat ze ervan bakken. En daar zijn wij erg over te spreken! Het concept draait om pizza maar verwacht geen pizzeria pizza. "Learn the rules like a pro, so you can break them like a chef" is precies de bedoeling. Gewoon is ook maar zo gewoon en de naam No Rules zegt het al: er zijn geen regels in deze keuken.

Net even anders
Op het menu staan unieke pizza's voor een bijzondere smaakbeleving. Verschillende culturen, smaken en producten zijn samengevoegd in één universeel heldengerecht: pizza. Bij No Rules pretenderen ze niet alsof ze de beste pizza hebben, maar ze zijn er zeker van dat de pizza's een next level gevoel geven aan wat je al weet over smaak, kwaliteit en ervaring. Zo kun je er de 'No Rules' pizza met truffel roomkaassaus, beenham, ei, stracchino, champignon en nootmuskaat-truffel vinaigrette bestellen of een 'Kimchi' pizza met kerriesaus, mozzarella, kimchi, gele curry crème, yoghurt, sriracha en furikake.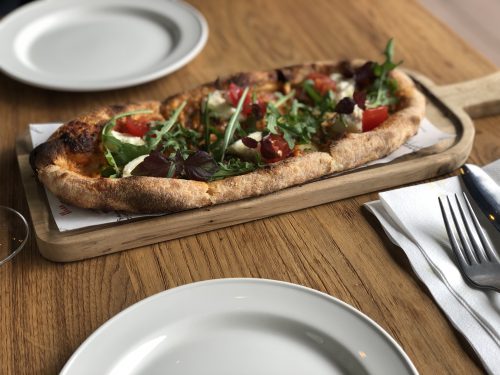 Meer dan pizza
No Rules is meer dan een pizzeria. Op het menu staan ook smaakvolle voorgerechten zoals steak tartare, ceviche of burrata. Allemaal met een bijzondere twist. Ook serveren ze er de hele dag door oesters of eet je er de lekkerste borrelhappen. Een plek waar het goed toeven is. Voor nu nog even op het deels overdekte en ruime terras maar hopelijk mogen we snel neerploffen op de prachtige ronde banken die onderdeel zijn van het interieur.
Bezorging door heel Nederland
Trek gekregen in een pizza met een unieke twist? Of wil je de voorgerechten delen? Dat kan nu in heel Nederland! No Rules bezorgt woensdag t/m zondag tussen 16:00 uur en 19:00 uur (behalve op de Waddeneilanden) hun gerechten bij jou thuis. Het enige wat jij nog moet doen, is het lekkers verwarmen. Kijk snel op de website van No Rules voor meer informatie.