3 onverwachtse plekken om in Amsterdam buiten te borrelen
De zon schijnt en het liefst wil je rond een uurtje of drie op een terras neerstrijken. Alleen dan ben je al te laat. Het volk heeft zich massaal gesetteld en een plekje in de zon is in geen velden of wegen te bekennen. Of toch wel? Op deze terrassen is het (nog) niet overbevolkt en kun je urenlang – een tikkie duurder – borrelen.
IZAKAYA
IZAKAYA in de Pijp kent inmiddels iedereen. Het Aziatische restaurant staat bekend om z'n voortreffelijke Japanse keuken. Op deze fancy plek is het zien en gezien worden maar eigenlijk draait het vooral om lekker eten. En drinken… al is het redelijk prijzig. Dit laatste kan ook in je voordeel werken. Vooral in de zomer wanneer je je niet wilt volproppen als je binnen mum van tijd weer in bikini moet. Geen vette hap op het terras alleen vette vis. De executive chef, Hariprasad Shetty tovert de meest lekkere gerechten op tafel om te delen. Ook op het terras kun je van deze heerlijkheden genieten. Je snapt dat het hier dus goed toeven is. Bestel een Aziatische Cocktail en maistempura met pittige yuzu-mayonaise en je hebt de terrasdag van je leven!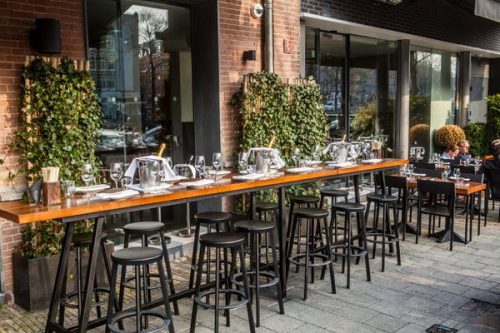 IZAKAYA, Albert Cuypstraat 2-6, Amsterdam
MR. PORTER
Hartje centrum zit een poepchique hotel waar men op stand borrelt in de zon. Ook dit terras is een gevalletje neem maar een dikke portemonnee mee en dan krijg je waar voor je geld. Namelijk: een dakterras mét zwembad, de hele dag zon en uitzicht op de stad. Meer heb je niet nodig. O jawel: een goed glas wijn met een snack. Bijvoorbeeld de focaccia met verschillende dips en olijven.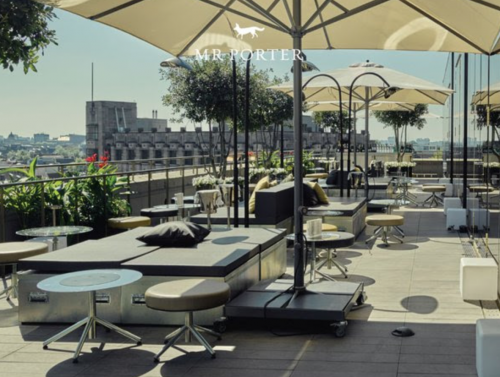 MR PORTER, Spuistraat 175, Amsterdam
Ferilli's at The College Hotel
Dit is naar eigen zeggen dé Italiaanse hideaway hartje Amsterdam. Het terras ligt verscholen en daarom is er meestal nog een plekje vrij. Op het terras kun je koffie drinken, loungen of een hapje eten. All the Italian way. Ik heb er nog niet gegeten maar wel met manlief een borrelplank besteld en dat was een feestje. Een groot plateau (we hadden er serieus twee tafels voor nodig) arriveerde en we zaten zo goed dat de wijn rijkelijk bleef vloeien. We zijn verliefd op deze plek en hopen dat we snel een gaatje in onze agenda vinden voor een diner bij Ferilli's.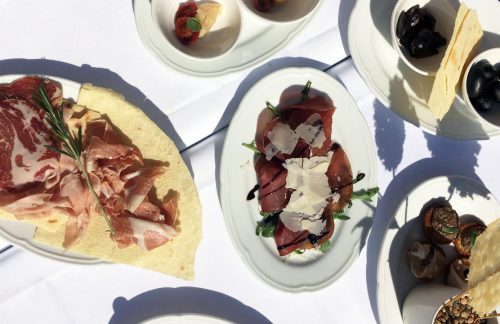 Ferilli's, Roelof Hartstraat 1, Amsterdam