Dieren met de huidziekte Vitiligo, dat is bijzonder!
Dat de huidziekte Vitiligo bestaat, is onderhand geen verassing meer. Maar dat ook dieren aan de huidziekte kunnen leiden, was wel nieuw voor ons! Deze beestjes hebben het soms ongelukkig getroffen, wat ze wellicht nog schattiger maakt. 
In Nederland zijn er ongeveer 240.000 mensen die leiden aan de huidziekte Vitiligo. Dit is ongeveer 2% van de Nederlandse bevolking. Vitiligo houdt in dat men zijn of haar pigment verliest. De pigmentcellen gaan kapot en maken geen nieuwe cellen meer aan, waardoor er witte melkvlekken op de huid ontstaan. Vitiligo komt voor op alle leeftijden, maar je wordt er nooit mee geboren. Vaak zit de huidziekte in de familie.
Het vervelende aan de ziekte, is dat deze niet te genezen valt. Dit komt, omdat de oorzaak tot op heden nog steeds onbekend is. Bizar eigenlijk, dat we in 2017 leven en er nog steeds zoveel ziektes onbekende oorzaken hebben! Er zijn wel behandelingen die het aanmaken van pigment stimuleren of de afbreuk tegengaan. Voorbeelden hiervan zijn; Corticosteroïd houdende zalf, UVB lichttherapie en pigment transplantatie.
Dat ook dieren aan de huidziekte Vitiligo konden leiden, kwam voor ons als een verrassing! Het is dan ook onbekend hoeveel dieren er precies aan de huidziekte zouden leiden, maar wij hebben er in ieder geval een paar voor je uitgezocht om te laten zien. En jeetje wat zijn ze knap! En soms ook wel heel erg ongelukkig schattig.
Wat een knapperd!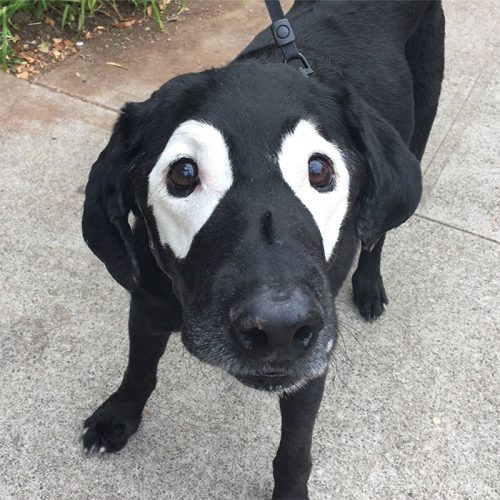 Is het een panda? Is het een hond? Het is een Pandadog!
Deze kat heeft er wel oren naar
Als hij altijd een masker op zijn toet heeft zitten
Zielig kijken is helemaal niet nodig, wat een cutie!
Deze knapperd mag natuurlijk ook niet ontbreken
Bron: BoredPanda
Lees ook: Deze 8 doorzichtige dieren bestaan echt!