Wel of geen cultuursnuiver, musea van de toekomst ga je gegarandeerd liken!
Rijksmuseum, Van Gogh museum, Zuiderzeemuseum, en zo kan ik nog wel even doorgaan. Nederland staat bommetje vol met musea. You love it or you hate it. Zelf hang ik ergens tussen deze twee uitersten van cultuurfan en -barbaar in. Maar daar kan nog wel eens verandering in komen met de ontwikkeling in museumland van de 'sensory journey.'  Als het aan een paar zeer out-of-the-box denkende cultuurfanaten ligt, zijn musea van de toekomst veel meer dan rondbanjeren langs creatieve uitspattingen waar je na tien keer knipperen nog steeds denkt: 'Sorry, maar wat is de clue?'
Het museum van de toekomst opent nieuwe werelden
Wereldwijd openen er steeds meer musea 2.0, 3.0, wat je wil. Denk bijvoorbeeld aan het Museum of Ice Cream in San Francisco (YES, het is precies wat je nu denkt dat het is), en The Color Factory in NYC (hier kan je he-le-maal loco gaan als je van kleurrijke kiekjes maken houdt). Beide musea zijn voorbeelden van de trend dat museumland stukken meer interactie, meer fun, en laagdrempeligheid wil stimuleren.
Afgelopen zomer is aan dit musea 2.0-lijstje het Teamlab Planets Tokyo toegevoegd. Paar regels: schoenen uit, mouwen opstropen en laat je bezittingen achter in kluisjes. Eenmaal binnen weet je niet wat je gaat meemaken. Digitale kunst, maar dan next level waarbij al je zintuigen gaan worden geprikkeld! Verwacht veel interactiviteit zoals je dat niet eerder hebt meegemaakt, en zie psychedelische projecties waarvan je mond zal openvallen (althans als ik de bedenkers en bezoekers mag geloven). Oh en had ik al gezegd hoe Instagrammable zo'n cultuuruitje is?! Niet dat het daar alleen om draait, maar just so you know! 
Kan nog veel meer woorden aan musea van de toekomst vuil maken, maar deze beelden zeggen genoeg: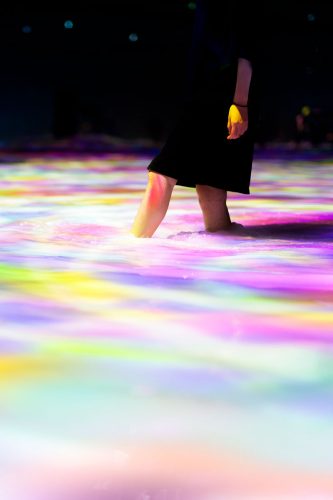 Photo credit header: Teamlab Borderless
Overige foto's: Teamlab Planets