Healing cafés, relaxte plekken om je batterij op te laden
Healing cafés. Waarschijnlijk is het niet wat je denkt dat het is. Geen mini-ziekenhuis op de hoek van de straat of hippe apotheek met de nieuwste medische snufjes. Neen, healing cafés zijn plekken om te relaxen, te ontstressen en (mentaal) uit te rusten. Spots om even uit te tunen, en waar 'tranquilo' de boventoon voert. 
Healing cafés: pak dat moment voor jezelf
Af en toe lijkt het wel alsof iedereen om je heen drukker en drukker wordt. 'Nee, dan kan ik niet. Over vier weken doen?' Say what?! In Korea, VS en Londen zijn als reactie op onze ongoing chaos de eerste healing cafés al gespot. Wat mij betreft een niet zo'n hele verrassende ontwikkeling (al moet je misschien wel even aan het idee wennen): openbare ruimtes waar je je kan afsluiten van de stadse drukte. Plekken waar je je lichamelijke en vooral ook geestelijke batterij kan opladen. Zie het als loungen 2.0. De ene plek focust zich op het thema 'slapen', waar een andere relax spot meer op 'massages', 'je hart luchten' of 'yoga' zit.
Kleine impressie van healing cafés die er momenteel zijn: Shim Story, Mr. Healing (Zuid-Korea), HealHaus (NY) en Chubby Cloud (tijdens afgelopen London Fashion Week 2018)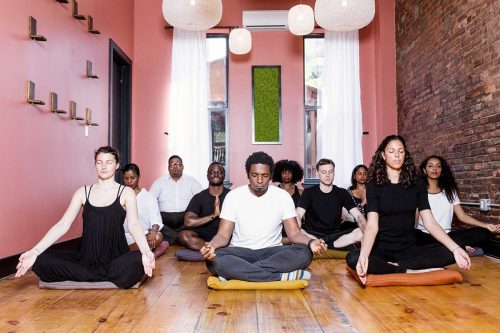 Voor je het weet gaan de healing cafés ook in ons land als paddestoelen uit de grond schieten. Heb jij er al één in de buurt ontdekt? Laat het weten! 
Header foto + foto 5: Darren Gerrish / Courtesy of Anya Hindmarch
Foto 2: Shim Story (Zuid-Korea)
Foto 3: Mr. Healing (Zuid-Korea)
Foto 4: HealHaus (New York, VS)