Deze badmode past het beste bij jouw figuur
Het is zomer maar wij vermoeden dat we pas echt veel zon gaan zien in het najaar. Net als vorig jaar, en het jaar daarvoor. Je hebt dus een goed excuus om nu nog de mooiste badmode aan te schaffen. Een heerlijke bikini of een kek badpak waarin je heel augustus, september én met een beetje geluk oktober kunt rond flaneren. Ruches, hight waist, bandeau… deze exemplaren van Marie Jo zitten als gegoten!
De badmode van Marie Jo staat bekend om z'n perfecte fit voor ieder figuur. Er is voor elke vrouw een item te vinden waarin zij zich prettig voelt. Wil je wat dieper in de materie van de juiste pasvorm duiken? Lees dan verder!
Brede heupen
Heb jij brede heupen of een peerfiguur (brede heupen met smalle schouders)? Leg dan de nadruk op het bovenlichaam en kies bijvoorbeeld voor een bandeau bikini om je schouders wat breder te laten lijken. Wat betreft het onderstuk is een bikinibroekje met dunne bandjes het beste voor je figuur. Kies je top en broekje in dezelfde kleur of print voor het mooiste effect.

Strapless bikini, €84,90 via Marie Jo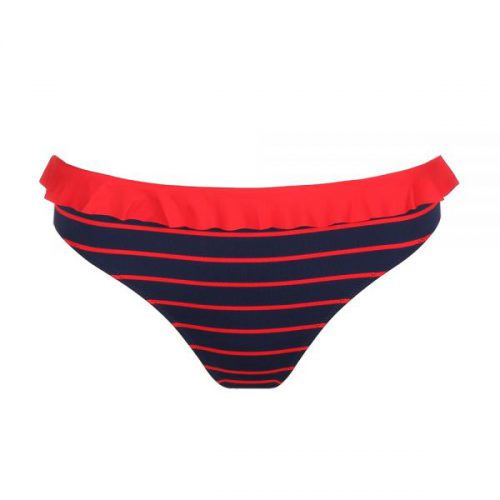 Heupslip, €39,90 via Marie Jo
Recht figuur
Heb jij een recht figuur en weinig taille? Een badpak met cut-outs of met een horizontaal gestreepte print is perfect voor jouw figuur! Op deze manier creëer je een optisch effect waardoor het lijkt alsof je óf meer taille hebt óf wat breder lijkt.

Badpak met mousse cups, €135 Marie Jo
Slanker lijken
Het is onnodig maar een wens van veel vrouwen: een bikini of badpak waarin je slanker lijkt. Wil je dit bereiken? Kies dan een badpak of bikini in een donkere kleur.
Triangle badpak, €140 Marie Jo
Flinke borsten
Flinke borsten vragen om een stevige bikini of badpak met beugels. De beste keuze is een BH-model met verticale bandjes. Deze zit het meest comfortabel. Een halterbikini kan klachten in je nek veroorzaken. Wanneer je kiest voor badpak of bikini van goede kwaliteit, heb je waarschijnlijk een item dat meerdere seizoenen meegaat. Een printje is leuk maar je doet er verstandig aan om een tijdloos exemplaar te kopen. Zo heb je er langer plezier van.
Bikini BeugelBH, €69,90 Marie Jo
Bikini Tailleslip, €49,90 via Marie Jo