Rotterdam here we come, say hey Le Petit Marin Boutique Hotel
Dat we voor een little escape heus niet per se het vliegtuig hoeven te pakken, realiseren we ons sinds Corona des te meer. Ons Holland heeft heel veel in petto. Sinds seizoen 2020/2021 hebben we de sport van in eigen land neerstrijken aardig onder de knie gekregen. Iets wat we vasthouden. Laatst maakten we Rotterdam onveilig waar we bij het gloedjenieuwe Le Petit Marin Boutique Hotel onder de lakens kropen.
Le Petit Marin Boutique Hotel: knus, knap en knetternieuw
Dat alles op on hold stond tijdens de kwam-geen-end-aan lockdown, is een illusie. Aan de tekentafel werd er hard gewerkt aan een nieuw hotelconcept bestaande uit twee thuishavens: Le Marin en Le Petit Marin Boutique Hotel. Dit zijn plekken waar Rotterdamse bravoure, design en ongedwongenheid elkaar de hand geven. Wij checkten in bij het petit broertje, gesetteld in een karakteristiek pand. Slechts 33 kamers groot. Redelijk petit dus. Dat in tegenstelling tot de fraai gedesignde kamers (fifty shades of black, goud en marmer) want daar kan je je kont prima keren en komen de muren, ondanks dat ze heel donker zijn, niet op je af. Fijn thuiskomen na een dagje bonnefooien in Rotterdam!
Waar het verschil 'm tussen de twee telgen in zit? Wij hebben het niet ontdekt. Hooguit dat grote broer net een paar kamers extra telt. Op papier was het zo dat Le Petit Marin een nonchalanter selfservice hotel zou worden, waarin je als gast je eigen check-in en check-out regelt. In de praktijk staat er toch – gelukkig! – een zeer vriendelijke host klaar voor een babbeltje, glaasje en boel tips. LIKE!
Bar Bató, waar 'come as you are' de norm is
En dan is er nog de innerlijke mens die nooit niet vergeten mag worden. Mocht je in Rotterdam West (10 loopminuten van CS) voor een hap en een slok willen blijven hangen, dan is het een kwestie van 200 meter overbruggen en het is al aanschuiven bij Bar Bató, (zelfde postadres als Le Marin). Hier kan je ver voor de vijf in de klok zit een beste borrel bestellen of laat aan de lunch. Net hoe het je uitkomt en de wind waait.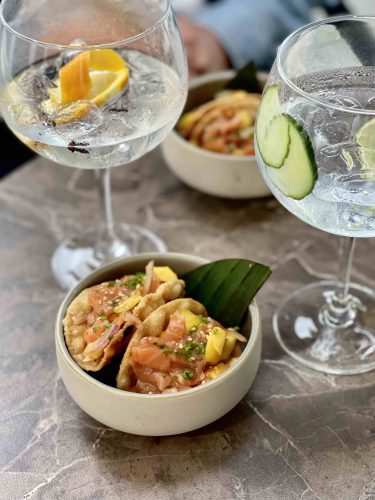 's Avonds prepareren chef & co graag een 3- of 4-gangendiner. En of ze daarbij rekening moeten houden met bepaalde dieetwensen de ja of de nee zal hen een worst wezen. Het is joúw avond uit en die zal culinair worden ingekleurd waar ze jou mee kunnen pamperen. Leuke bijkomstigheid is dat je er vanwege de Zuid-Amerikaanse roots van de chef-kok een ticket to the tropics bijkrijgt: taco's met vis in een friszure salsa, bavette zoals bavette hoort te zijn met een Caribisch randje en een soort van chocoladefondant van witte chocolade. Eerlijk is eerlijk, op zaterdagavond waren er slechts een paar tafeltjes gevuld, wat zonde is, want het is er echt goed toeven. Sympathieke crew ook.
Trouwens, Bar Bató is ook de plek waar het ontbijtbuffet wordt uitgestald. Een ontbijtbox op de kamer laten bezorgen en het onder de dekens met een Netflix-serie aan weghappen, behoort ook tot de opties. Team Enfait ging voor optie 2. Aanrader wel!
Rest een nachtje (of meer) bij Le Petit Marin Boutique Hotel te boeken en het aan den lijve te ondervinden. Reserveren doe je hier.
Photo credits: Martijn Vonck