De magische werking van geurkaarsen
Geurkaarsen. Je hebt er nooit genoeg en alleen daarom al zijn kaarsen een mooi cadeau om te geven. Of om te krijgen. Want een voorraadje geurkaarsen wil iedereen in huis hebben! Laten we het daarom eens hebben over de voordelen van geurkaarsen. Die zijn er namelijk veel.
De meeste mensen branden de laatste maanden meer kaarsen dan óóit. Lockdown na lockdown proberen we het thuis zo geriefelijk mogelijk te maken en het branden van een kaars zorgt voor sfeer en warmte. Laat dat nou nét zijn wat we nodig hebben. Geurkaarsen hebben een positieve invloed op jouw stemming en het is wetenschappelijk bewezen dat ze stress verminderen. Een kaarsje branden is goed voor je mentale welzijn! Bovendien branden we ook kaarsen uit traditie. Omdat we aan iemand denken.
Het rustgevende effect dat kaarsen hebben, komt door de manier waarop hersenen geuren verwerken. De geur stimuleert ons limbisch systeem, het deel van de hersenen waar ons geheugen en onze emoties gehuisvest zijn. Hormonen zoals serotonine en dopamine worden zo geproduceerd om stemmingen te reguleren. Dit is dan ook de reden waarom onze emotionele toestand beïnvloed wordt door geuren of de relatie die je hebt met een geur. Want geuren worden vaak geassocieerd met fijne herinneringen en emoties.
Een betoverende kaars!
De geurkaarsen van Bon Parfumeur kennen we (en vinden we LEUHEUK!). De nieuwste geur, 04 is een aanrader! Deze geur neemt je mee naar een keramiek fabriek in Japan. Eerst wordt je getroffen door de subtiele, zeer rokerige geur van Lapsang Souchong zwarte thee. Dan zorgt het aromatische en botanische facet van bijvoet voor een verrassende, onverwachte frisheid. Tenslotte geven noten van berkenhout diepte en kenmerkende warme, zoete en leerachtige ondertonen.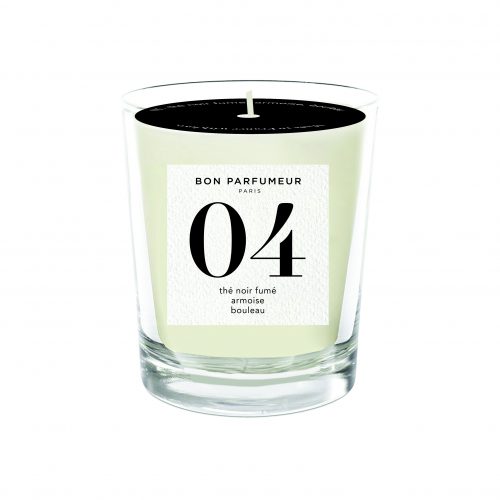 Prijs: 180g €39
Bon Parfumeur