Hotspot Alert |Frans restaurant Bleu in Amsterdam
Af en toe zie je door de bomen het bos niet meer als je denkt aan de Amsterdamse horeca. De keuze is zó reuze. Laat mij je keuzestress een beetje wegnemen. Deze week in de rubriek 'Hotspot Alert' Restaurant Bleu. Eén die zeker weten een plek op je uit-eten-in-Amsterdam-lijstje verdient. Wat zeg ik, dik verdient! 
Restaurant Bleu: Klassiek met twist
Het station 'newbie' zijn ze inmiddels ruimschoots gepasseerd. Alweer drie jaar geleden opende Restaurant Bleu namelijk al haar deuren in de Prinsenstraat. Om de hoek van de knusse negen straatjes en de grachtengordel, Amsterdam in optima forma. Alleen locatietechnisch zit het dus al op en top snor met deze hotspot. En het eten? Als je van de Franse cuisine houdt dan ben je bij Restaurant Bleu absoluut aan het juiste adres. Ontdek er de golden oldies uit de keuken der keukens, maar dan wel met een eigen signature twist van de chefkok. Van croque madame tot escargots, steak tartare en kip bonne femme. Of je nu all the way wil gaan, alleen een bakkie wil komen drinken (mét macaron wel te verstaan(!) óf de stadse drukte even wil ontvluchten, dan is deze met groen overladen plek een appetijtelijke oase om te gaan buurten.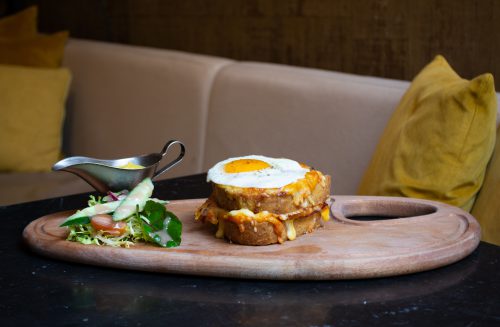 Tijdloze hangout met speelse klasse
Wat ik zelf altijd heel fijn vindt als ik een restaurant binnenloop, is dat er een lekker sfeertje hangt. Dat het iets knus heeft. Dat je je welkom voelt. Nou, dat had ik! Al snel wist ik dat dit een gezellige, down to earth lunch- en diner hangout is. Chique etiquettes mogen achterwegen worden gelaten. De bediening wil je vanaf moment één op je gemak laten voelen. Mét flair, zonder poespas.
Niet alleen qua eten pakken ze bij Restaurant Bleu flink uit (geen schamele porties), ook qua interieur hebben ze buiten de lijntjes gedacht. Credits voor Valk Design voor het speelse, creatieve en vooral warme ontwerp. Totaal anders dan veel andere restaurants in Amsterdam, waar vaak bepaalde hippe stijlelementen terugkomen. Bij Restaurant Bleu is het tijdloos én toevallig ook nog eens Instagrammable, al draait het voor hen totaal niet om dit laatste.
Enfin, ga er vooral binnenkort zelf eens een vorkje prikken. Bon appétit!