De 7 leukste Etsy cadeautjes voor kattenvrouwtjes
We kennen allemaal wel een typisch kattenvrouwtje. Die ene vriendin waar je altijd weggaat met een broek vol kattenharen en die op zondag liever thuis zit bij Poekie dan een wijntje gaat drinken met jullie. Voor deze vrouwen hebben wij de 7 leukste cadeautjes op een rijtje gezet. 
Nu zijn er genoeg katten spulletjes te vinden. Maar de meeste zijn saai, truttig of gewoon een beetje te creepy. Daarom hebben wij de schattigste, leukste en grappigste Etsy Finds op een rijtje gezet. Alleen voor echte kattenvrouwtjes!
1. Patches van Poney People
Hoe leuk om je eigen t-shirts te pimpen met deze schattige katten patches?!
De Nederlandse Anne Knispel is illustrator en kattenvrouwtje van boyfriend Jaap en past dus perfect in deze lijst. Poney Poeple maakt trouwens ook de aller leukste t-shirts en stickers, te koop via hun eigen website.
2. Katten billen onderzetters van Pulpu and Peach
Deze harige kontjes zijn eigelijk te schattig om te bedekken met een glas, maar des te leuker om gewoon op je tafel te laten liggen.
3. Katten tepelcovers van Rainbow Blush Boutique 
Voor de stoute kattenvrouwtjes onder ons, zijn er deze tepelcovers. Waar ik je normaal gesproken niet kan adviseren op je kat op je tepels te plakken, kan dat met deze cuties wel. Geinig vrijgezellen cadeautje?
4. Katten oorbelletjes van Whatever Lola Wants UK
Normaalgesproken vind ik katten oorbelletjes meer iets voor meisjes van vier en zou ik ze niet zo snel cadeau doen aan een volwassen vrouw. Maar deze bellen zijn wel heel erg schattig. Whatever Lola Wants verkoopt trouwens ook hele mooi andere sieraden, welke niets met katten te maken hebben. Mocht je niet zo'n katten fan zijn…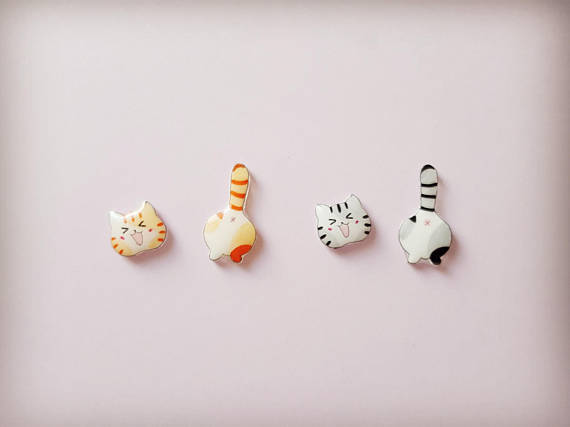 5. Speltjes van Tiny Little Tails 
Poesjes op je schoen, poesjes op je tas op gewoon een poesje op je vriend zijn shirt. Het leuke is dat de speltjes van Tiny Little Trails overal op te spelten zijn. Oh en weer zo'n lekker Nederlandse shop. Love it! 
6. Sunnies van Spunglasses
Met het zonnetje in aantocht, zijn we massaal weer opzoek naar de beste en vetste zonnebril. Wij hebben de mooiste sunnies voor de kattenvrouw in ieder geval alvast gevonden. Let the sun shine!
7. Kattenbillen op je telefoon van Moon Felt Craft 
Ja deze mag natuurlijk niet in het lijstje ontbreken. We hebben ze alleen keer eerder aan jullie voorgesteld, de lieve kontjes van Moon Felt Craft. Zijn ze niet fantastisch?