Handig: deze cadeaus geef je hem met Valentijn
Valentijn. Ik vind het een commercieel bedenksel en heb er niet zoveel mee. Lief zijn doe je toch het hele jaar door? Het allerergste vind ik de cliché Valentijn ideeën… opeens zit je met mega veel stelletjes in een restaurant te zwijmelen, krijg je wéér een teddybeer voor in de collectie of een roze doos chocolade terwijl je nét voor de tweede keer met je goede voornemens bent begonnen. Beter van niet! Als je dan toch iets wilt geven, zijn dit écht leuke ideeën:
Eindelijk een mooi verzorgingsproduct voor mannen:
Het is voor hem maar je plukt er zelf ook de vruchten van. Niet alleen heb je een frisse man, ook je badkamer ziet er opeens stukken stijlvoller uit.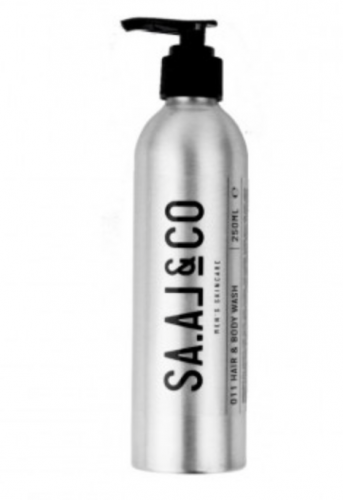 Hair and body wash, €22,- Sa.al & Co via Skins Cosmetics
Zo komt hij nóóit meer te laat:
Dit stijlvolle klokje van Renard prijkt binnenkort om zijn pols en dan heeft hij nooit meer een excuus om te laat op jullie date te verschijnen. We like!

Horloge met donkerblauw getinte wijzerplaat en bruine lederen band, €269 Renard
Voor verkoeling in zijn glas whiskey:
Is hij lately niet te genieten? Heeft hij veel stress op het werk? Laat hem dan afkoelen met deze ijsstenen in zijn glas whiskey.

 Whiskey Disks, €38 via Concrete Matter
Hier wordt hij ook heul blij van:
De bralette is eigenlijk voor jou maar wedde dat hij er ook niet vies van is? Trek je mooiste lingeriesetje aan en verleid hem op valentijnsdag.

 Zwarte bralette, €30,95 Passionata
Voor al zijn centen:
Als hij die nog heeft nadat hij jouw een Valentijns cadeau heeft gegeven. Maar wat hij niet heeft kan nog komen en een portemonnee is dan nooit weg.

Portemonnee, €325 Saint Laurent via De Bijenkorf
Anti-valentines bij The Butcher:
Jij ziet al die romantiek wel zitten, hem doe je pas echt een plezier met burgers en bier. Gun jij je lief het allerbeste? Dan neem je hem mee naar The Butcher waar op groot scherm de Champions league PSG vs. Barcelonakick wordt uitgezonden. Na dit uitje mag hij nóóit meer klagen.


www.the-butcher.com
Lees ook: 25 februari zou de dag kunnen zijn dat de wereld vergaat.