Tapijten voor buiten
Het is genieten in de tuin, op je balkon of in het park. En jouw buitenverblijf ziet er nog mooier uit met deze tapijten voor buiten! Je creëert niet alleen een stijlvolle plek, maar het wordt er ook gerieflijker. Zorg wel goed voor het kleed anders is deze er zo geweest!

Ga niet voor duur
Er zijn stoffen kleden die buiten prachtig staan. Toch zijn ze niet zo duurzaam als 'buitenkleden' en minder goed bestendigd tegen vocht en vuil. Het is verstandig om daarom geen duur kleed te kopen.



Laat het kleed nooit buiten liggen!
Of je nu een vintage kleed, oud kleed of plastic kleed buiten hebt liggen, neem deze mee naar binnen. 'S nachts word de grond vochtig en dit trekt direct in het kleed. Hierdoor krijgen schimmels de kans om jouw mooie kleed te verpesten.

Hang het tapijt uit
Heb jij een stevige waslijn? Een rek? Hang het kleed uit zodat het goed kan drogen. Berg nooit een vochtig kleed op.
Bloemen inspiratie krijg je zeker op de volgende Instagram-accounts!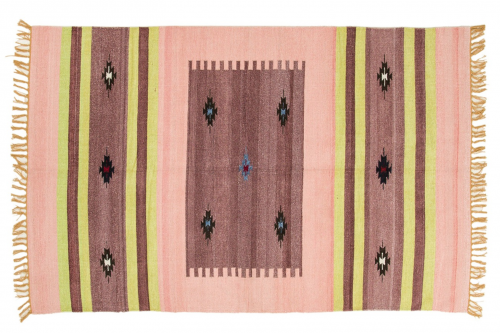 Kelim tapijt, €123 via Xcarpets


Svea vloerkleed vanaf €68 via Flinders


Vloerkleed zwart-wit, €35,95 via Plastic Vloerkleden
Volg ons ook op Instagram!