Breakfast bowls van Z-Ora, om op te vreten
Het ontbijt, onze grote liefde. Want wat zet je er de toon mee voor de rest van de dag. Klaar met je Brinta, boterham met pindakaas of plak ontbijtkoek? De bio breakfast bowls van Z-Ora zijn je nieuwe beste buddy. Noten, zaden, haver en gedroogd fruit van biologische komaf. Precies dát wat je nodig hebt voor een kickstart. Lepelen maar! 
Kickstarters van het plantaardige Z-Ora 
Z-Ora, zeg je? Een nieuw plantaardig voedingsmerk op de Nederlandse markt om smoor op te worden. Isabel Zapf (28) is het breaky brein erachter. Voor de jonge onderneemster is een goed begin van de dag erg belangrijk (iets met goed beginnen en half werk). Alleen die ochtenden hè, die zijn vaak kort. Veel gevlieg, gejaag en hap-slik-weg werk. Isabel hunkerde naar een gezond, voedzaam product dat in no time op tafel te toveren is. Oké, is goed. En zo was daar Z-Ora.
.
Op het menu: biologische noten, zaden, gedroogd fruit en haver. Vrij van kleur-, geur- en smaakstoffen. Vrij van toegevoegde suikers (ha, skip de dip). Vol gevoel voor uren. Of zoals Isabel zelf zegt: "Een mindful moment creëren. Een moment waarbij je jezelf gunt even in het nu te zijn, voordat de hustle and bustle je dag weer overneemt." Klinkt goed? Mais oui. Wordt nog beter. Alle producten worden in het lab getest op voedingswaarden, zodat jij met elke portie vitamines en mineralen binnenkrijgt die je nodig hebt. En dan kan je nog kiezen uit drie verschillende smaken ook, bof jij even.
Liefde voor maag, mind en milieu
First of all is Z-Ora uit op knap snel natuurlijke ontbijtjes in elkaar flansen. Check. En dat 'natuurlijk' blijft niet beperkt tot de ingrediënten. Isabel wil haar sustainable steentje bijdragen. En dat weet ze leuk te verpakken. Letterlijk en figuurlijk. Ze werkt met 100% biologisch afbreekbare verpakkingen, doneert 1% van haar jaaromzet aan het goede doel 1% for the Planet en ze biedt een product aan dat valt onder de richtlijnen van het 'Planetary Health Diet' (gaat over een gezond x duurzaam dieet dat goed is voor mens, dier en planeet).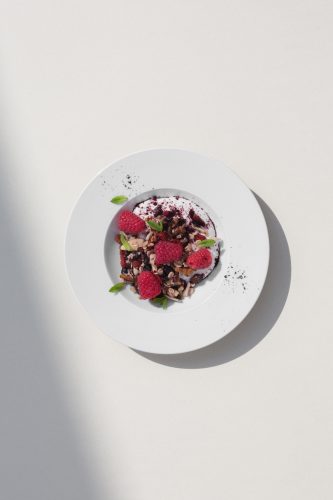 Z-Ora houdt van variatie: balance, clarity en strength
Z-Ora biedt momenteel drie verschillende berelekkere breakfast bowls aan:
Organic Strength Bowl: vol ijzer en plantaardige proteïne. Energiek, stuiterend de dag starten dus. Fan!
Organic Balance Bowl: açaí en gefermenteerde cacao in de mix voor een zuiverende en stimulerende werking op de body.
Organic Clarity Bowl: kaneel neemt het voortouw in deze alles-in-een blend en ondersteunt o.a. je bloedsuikerspiegel. Geen geschommel, gewoon lekker steady. 
Z-Ora (à 450 gram) is voor €16,50 – €19,50 verkrijgbaar via Z-Ora.com.
Photo credits: Debbie Trouerbach