Nieuw: Brain Balance platform van Charlotte Labee
Powervrouw Charlotte Labee. Je kent d'r misschien al wel van haar bestseller 'Brain Balance' of haar nieuwe baby 'Brain Food.' Maar je voelt 'm aankomen, deze lady zit niet stil. Ze wil de hersenen van tout Nederland fitter maken, en hoe kan je dat beter doen dan door een heus Brain Balance platform te lanceren? Onlangs was de lancering van YourBrainBalance.com. De plek waar je alles te weten komt over het gezonder maken van je hersenen in combinatie met een gezonde(re), gelukkige lifestyle.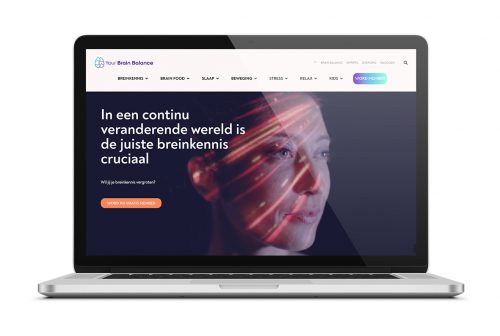 Wees lief voor je brein
Hersenen. Hoe blij mogen we zijn als ze gezond zijn. Als ze doen wat ze horen te doen. Thumbs up! Alleen krijgt ons brein het wel knaplastig in deze moderne wereld vol prikkels. Het zit er dik in dat ze overprikkeld raken. Wist je namelijk dat we per dag maar liefst 120.000 prikkels te verwerken hebben? Alles en iedereen schreeuwt om je aandacht. Niet zo gek dus dat je hersenen op een gegeven moment hun grens kunnen gaan aangeven en eventueel uit balans raken. Dit uit zich vaak in de vorm van een burn-out, angst, depressie of overgewicht. Wil. Je. Niet. Charlotte kan erover meepraten. Jaren geleden raakte zij uit de running. Sindsdien is ze zich gaan realiseren hoe niet serieus zij haar brein in het verleden heeft genomen.
Charlotte: "Als we niet nu iets met onze hersenen en ons biologische systeem doen, zullen we als mensheid zowel fysiek als mentaal steeds zieker worden. Als je de werking van je brein begrijpt en je je als mens blijft ontwikkelen, kun je het leven creëren dat écht bij je past en dat jou gelukkig maakt."
Brain Balance platform voor gezonde hersenen
Vanuit de gedachte om je hersenen serieuzer te nemen, om te weten hoe hersenactiviteiten werken en om liever voor ze te zijn, is Charlotte het breinkennis- en inspiratieplatform Brain Balance gestart. Houd je namelijk je brein in balans, dan ben je als mens in je dagelijkse leven in balans.
Wat het platform voor je in d'r mars heeft? Van interessante blogs en video's tot podcasts en Brain Food-recepten. Denk bijvoorbeeld aan onderwerpen over neurowetenschap, psychologie, voeding, energie, slaap én Brain Balance voor kids. Kom te weten wat beweging en slaap voor je breinbalans doen, wat voor toegevoegde waarde zogenoemd 'brain food' heeft op je hersenen en hoe je in je vel zit, én waarom je je hersenen ook genoeg tijd moet gunnen om zich op te laden. "Het is tijd om preventief voor jezelf én voor anderen te zorgen."
Wil jij je hersenen ook serieuzer gaan nemen? En ben je benieuwd met welke kleine tweaks in je dagelijkse leven je al verschil kan maken? Schrijf je gratis in op YourBrainBalance.com.