Barbie introduceert 17 nieuwe poppen gebaseerd op inspirerende vrouwen zoals Frida Kahlo
Barbie. Iedereen is er mee opgegroeid. De plastic poppen zijn al 58 jaar een voorbeeld voor veel kleine meisjes. En to be honest: een onrealistisch voorbeeld. Graatmager, met een volle bos haar en een nog vollere buste is Barbie niet de gemiddelde vrouw. Dit onoprechte plaatje wil Barbie recht zetten.
Om uit te vogelen waar de maatschappij écht behoefte aan heeft, werden er 8000 moeders ondervraagd. Meer dan 86% van de ondervraagde vrouwen is bezorgd om de rolmodellen waar hun dochters mee te maken krijgen. Ook in Nederland werd onderzoek gedaan naar het belang van positieve vrouwelijke rolmodellen. Voor maar liefst 69% van de meisjes is haar rolmodel hét bewijs dat je alles kunt bereiken. Dat zie je in deze video met Olcay Gulsen!
Dit is een greep uit de 17 poppen gebaseerd op échte en inspirerende vrouwen en dat ziet er zo uit:

Amelia Earhart – First female aviator to fly across the Atlantic Ocean, courageously challenging the conventions of the times by breaking and setting aviation records

Frida Kahlo – Artist who gained recognition for her unique style and perspective, and became a celebrated artist, activist and symbol of strength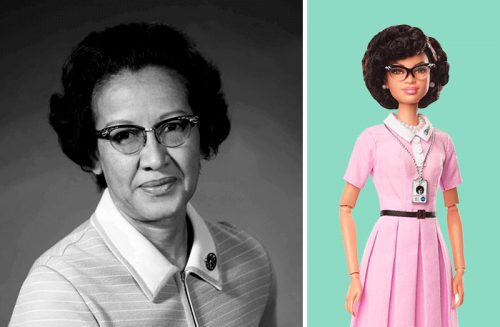 Katherine Johnson – Pioneer in mathematics who broke through barriers of race and gender, and joined a pool of women hired by NASA to work as 'human computers' to calculate the trajectory of the first American-manned flight into space